Assalamualaikum,
Tengok pada tajuk mesti yang tanye2 ape tu V?..Vee Vanida Imran kah?..
Ok bukan. V here stand for V..A..G..I..N..A. Tp nak cerita kali bukan check V dlm dalam V. Dalam V ade pe?...hohoho
Dalam vagina kite ade serviks. Dan pada masa kini jumlah pesakit cancer servik meningkat dr tahun ke tahun. So ape yang perlu kita lakukan??
Bagi yang telah melakukan hubungan seks sama ada secara sah atau tidak sah orang ini perlu melakukan pemeriksaan servik. Selalunya tidak digalakkan bg yang belum melakukan seks sbb x pecah dara lg...ok dah! Aku dah mule melalut.
Let's straight to the point....Pap Smear Test ye kawan-kawan!
Once nurse / doc / mo panggil untuk menjalani pemeriksaan you must be ready to be naked!..Not Fully naked. But half naked. Bukak all the garment sebelah pinggang ke bawah. Kalo kate lelaki, mintak la permission pasangan anda terlebiy dahulu. Kalo pompuan??..Alhamdulillah. =)
Ni alat yang digunakan untuk pap smear test.
Aku panggil alat bawah ni mulut itik..
Imagin alat ini akan dimasukkan ke dalam F anda. Bukan fucker ya...faraj! =p. So di sini anda perlu relax, kangkang luas2 and breathing. After alat ni dah bukak...
Then die gune brush cervical sampling ni untuk ambik sample pada pintu servix...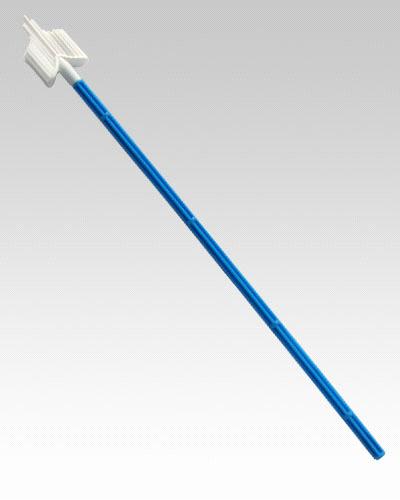 Die wipe a few time and sapu pada pallette sampling. Done!
Sekejap je ok....
Pemeriksaan die seperti rajah di bawah
Ok ape ko nampak tu simple. Tp experience orang x same. B4 aku wat check up tu, aku kecoh2 jap kat group dalam FB tanye pasal check up ni. And bleh di katekan sume ckp X SAKITTTTT! Aku pun cam..hokey la kalo cm tu.
Masa kejadian, sesudah aku menyerahkan diri untuk pemeriksaan aku rasa cam...uuuwaaaaa...
Sakit nakkk MMMAAAMMMMPPPPSSSSS......sakit F aku k!
Die gune mulut itik plastic..fine! what do u expect for KK, Gov. Tp die x letak lubricant ok!...Men tojah sumbat2 cam tu je..aku dah mcm nak tendang die sbb sakit. Eventho aku try to relax tp sakitt siot! Aku rasa nurse ni x pandai buat. Rasa cam kene sulah! hohoho (cm la penah kene)..Bile aku cakap " aduh aduh..sakit sakit...sakit la nurse!"...die suh aku sabar or else alat ni kuar balik and jadi lagi susah. Hadoiii...serik k. After this xmo dah g KK wat check up. Aku bukan xmo g private but I was thinking to save some budget and think gov klinik x teruk sgt kot. But after experience it...nooo waayyy! private after this..
But to share with you all...sepatutnya test ni tidak menyakitkan langsung. Tp ye la kan, nasib!
Masa nak branak dulu kene seluk cam ni
xde lah rasa sakit sangat. Still like..owwhh ookaay!
So to all the women out there bagi sesaper yg dah melakukan hubungan intim tu bawak2 la pegi check up Pap Smear k untuk mengetahui tentang kesihatan servix u. Barang nak pakai lame ni cik Kiah oiii...=p