Assalamualaikum w.b.t,
Selamat Hari Jumaat. Nice date is it 1 Safar (2) 1434. Alhamdulillah...Allah melanjutkan usia hingga ketika ini. This time I just to share what I wish for my house. Ceewaahh,..semenjak ade rumah sendiri macam2 berangan. But progress agak slow di sini kerana fulus kureng.
Actually ari tu ade la bincang2 ckit ngan abah n daddy pasal our house. At the moment hubby tgh nak siapkan rumah untuk Ginger. Tinggal nak pasang bumbung je lg. Tp i bet still kesian kat die sebab our backyard ni kosong..no awning, roof extension what ever u call it. So I have some sort of idea....
It's a future plan for backyard actually. Belakang rumah saya adelah membelakangi belakang rumah jiran saya. Xde space seperti lorong belakang seperti rumah2 yang lain. Hanya pagar yang memisahkan kawasan kami. But rumah die agak ke bawah, kiranya tinggi 5-6 kaki gak la rumah saya ni dari rumah die. Owner lame kiteorg ade wat extension kitchen ckit kat belakang tp malangnye dirobohkan dan yang tinggal hanya lantai semen yg x rata and tiang bumbung. Dan wat masa skrg ni, tempat ni jadi tempat kolam nazhan.
Ini adalah gambaran yang lebiy kurang saya nak utk back yard. Ia akan jadi tempat kucing saya, laundry area, tempat sidai baju time hujan, tempat lepak for bbq n kolam nazhan not to forget.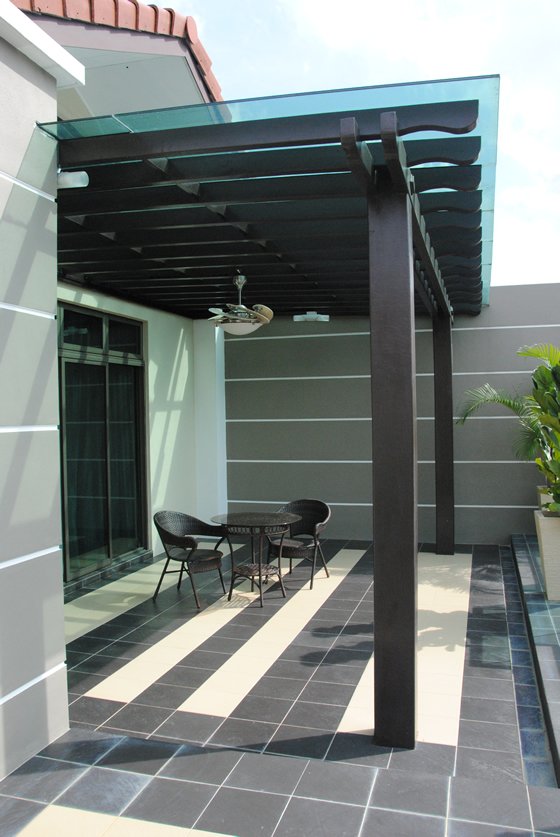 The closest picture that can describe what i want....
Saya nak bumbung kaca or polyglass so area belakang ni x gelap. Cahaya boleh tembus melalui kaca2 tu. And malam kalo lepak2 ngan hubby bleh nampak lg cahaya bulan n bintang. Kalo pasang bumbung polycarbonate, alamatnye gelap lah ckit. Mood mesti ala2 mandom gitu....x best!
Harap Mr Rasaksa faham design saya ni. Eventho for the time being since $$ x bape nak ada. just put cheap awning dulu to protect our cats. And sebab xde bumbung ni la saya x nak beli lg washing machine!..hehehe.
Kalo ikutkan banyak mende gak la nak bg cantek belakang tu. First nak kene rata kan simen (hubby plan nak buang simen tanam rumput..aiyakk!) and pasang outdoor tiles. Pas tu bumbung die which cost me a hand bomb. Then nak masuk outdoor furniture lg....Seee how kopaks us become nak spend on this.
So kene la menabung semula demi asset keluarga ni...
Ps: Contest Money Drop tu open lg x??...hehehehe