Assalamualaikum w.b.t,
Hoollaa everybody. Salam Thursday!
How's your weekdays so far? Yeaaa I know..most of Selangorians not working today! Jeles~
I wanna share with you something. Something that is good for your health.
Lately so addicted with juices. And I memang penggemar juice. Tak kisah la home made ke, kedai-made ke or beli yang ready made. Semua I tibai. But as you know la, mostly yang ready-made ni gula dia boleh tahan banyak juga. Kalau kedai-made or homemade boleh la adjust here and there. Request untuk less sugar or sugar-free and less ice or ice-free.
Now I addicted sangat dengan Miracle Juice! Tapi I panggil 'Bella Juice'. My cousin Aina la ni yang mula kenalkan kat I. I bawak die pergi kedai printing area UPM tu. There is a small shop jual buah and juice. Sebelum ni kalau pergi situ memang I akan beli juice. Tapi single fruit juice je, not mix like she introduce me to. I was surprise to see how reddish the juice, so red like a blood. And my mind terus teringat Twilight Saga: Breaking the Dawn Part I. When Bella pregnants and she need to drink a human blood to feed her baby. Hahaha mesti ramai yang rasa nak puke kan. Eeyyarrkkss!
But this juice is really super duper yummilicious nice. Once I taste it on that day, I could not forget how good it is. Since then, I will drive myself there just to buy that juice. Imagine with few type of fruits, it just cost you RM 5! Where got?? Tell me. Even I try other famous juice kiosk, the taste still cannot compare the street fruit juice stall. And I'm talking the same ingredients. The taste is sooooooo refreshing, tak sama macam juice kiosk tu. Tak sedap langsung, and mahal pulak tu. Same size and it cost me RM13++. I can get 2 out of it. And uncle ni pakai juice maker yang sempoi tu je. Bukan canggih manggih punye machine pun. Juice maker Panasonic tu je.
So here is the ingredient that I'm talking about.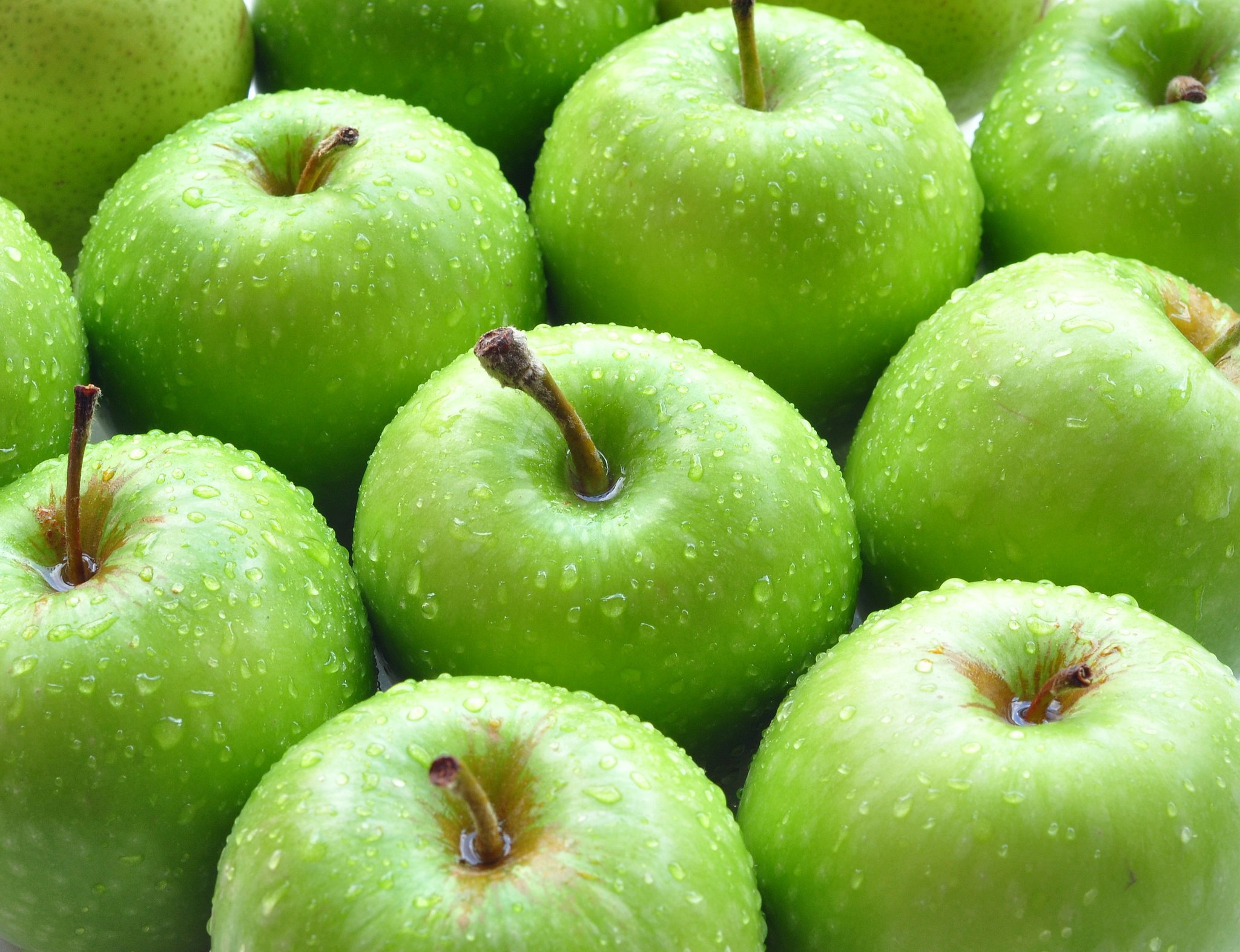 Apple, Beetroot, Carrot & Celery
Kalau tengok pada ingredients mesti korang rasa buah and sayur ni senang je nak dapat kan. Tak de la mahal mana. Tapi kalau beetroot tu, kalau tengok kat Tesco RM9.90, tak per KG or biji. Sebab tak mention kat situ. I dah few time belek nak beli. Tapi cam mahal gak. Decide beli je la kat uncle tu. RM 5, ape ade hal. Tapi bila fikir-fikir balik, I nak gak my family to enjoy this miracle juice. Nanti la I beli, survey tempat yang murah2 ckit. =D
*banyak sungguh Tapi aku*
Kalau you talk bout how much nak blend, part ni I fail. Sebab I selalu lupa nak tengok time uncle tu blend. So ikut rasa tekak korang la nak letak banyak mana. Beetroot tu kalau letak banyak nanti rasa kelat.
Here I share my personal picture.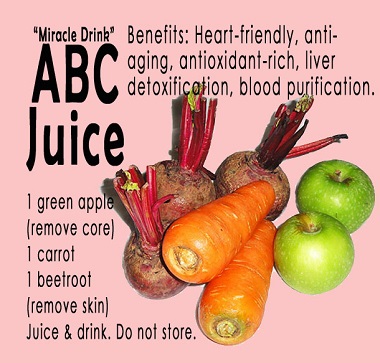 Also called ABC Juice.
Benefit of Miracle Juice (ABC Juice)
Juice prepared from apple, beetroot and carrot has gained the name of being miracle drink due to the innumerable advantages which can be benefited from both brain and body. The name this drink has acquired is all due to the several advantages, this was discovered by Chinese Herbalists who have found this to be helpful in treatment of lung cancer and several other diseases.
The magical benefits this drink gives has helped this drink in becoming popular throughout the nation for which there is a need only to get apples, carrots and beetroots all of which have to be put in a juicer to extract juice from them but will not have to be stored instead should be consumed immediately after it is prepared.
There is no need to follow some strict quantities to prepare this juice instead it can be prepared as per the taste which might even require addition of either more carrots or apples, for those who want best out of this juice should mix equal quantities of these ingredients to which lime juice can be added making it better option than sugar.
This juice is so nutritious only due to the presence of two vegetables and one fruit which is full of several lifesaving antioxidants, apple is full of Vitamins like A, B1, B2, B6, C, E and K along with nutrients like Folate, Zinc, Magnesium, Potassium, Phosphorus, Calcium, Sodium and Iron. While carrots are known to have vitamins like A, B1, B2, B3, C, E and K along with Niacin and Pantothenic Acid supported by minerals like calcium, magnesium, potassium and Selenium. Maximum advantage can be gained from carrots in their juice form rather than the vegetable eaten directly.
Beetroot is a vegetable which is known to help the heart in prevention of any cardiovascular diseases which are full of nutrients like Vitamin A, C, B-complex, iron, copper, magnesium and potassium along with several anti-aging agents.
Combination of these three is enough to provide the body with all the necessary nutrients to keep the body going throughout the day apart from which they also are known to provide long lasting benefits to the body health. Some of the advantages which can be gained from this juice include:
This drink few years ago was suggested to those who have been suffering from lung cancer for which it is necessary to drink this for 3 months continuously after which it has been found that they have completely healed from this life taking disease. This drink is not just limited to lung cancer but also is known to treat all types of cancer by restricting the growth of cells which can lead to cancer.
This juice is known to be perfect choice for development of various organ's health like kidney, liver and pancreas saving them from various problems which also helps in strengthening of heart and lungs.
It is already known that this miracle drink consists of beetroot which is known to look after the health of heart along with presence of carrot which is known to help in promotion of heart health with compounds like alpha and beta carotenes and lutein. When all the goodness from these both vegetables is mixed with apple aids in keeping the cholesterol levels down and having a control on the blood pressure also acting like a shield in front of heart from diseases.
There are many who state that this miracle drink will also help in keeping the skin without any spots, pimples and also extending the time during which the skin keeps on ageing. Younger and fresh skin that is dream of many can be easily acquired by one glass of this miracle drink daily.
This juice is also said to improve the entire digestive system in the body that protects stomach health saving it from ulcers, controlling the bowel movements and relieving chronic constipation.
This is the best drink which will help in providing brain with all the necessary nutrients which in turn increases the memory and helps in proper functioning of brain.
This works great even for the eyes and is suggestible exclusively for those who are forced to work on computer for several hours which might result in drying up of eyes, irritation and tiredness.
This juice also works great in enhancing the immunity system at the same time safeguarding the body from different types of allergies, this works even in curing any sort of throat infections.
This miracle drink is also known to detoxify the liver and blood purification thereby helping in increment of red blood cells production. (good for pregnancy)
Women suffering with too much pain during menstrual cycle can also go with this drink since it is known to relieve from any such pains and cramps apart from this it is said to relieve pain from any sort of activities which might also include physical activities.
This is also said to work wonders for those who are looking to lose some weight at the same time giving necessary energy without putting on additional calories.
In order to get maximum benefit from this miracle drink it is suggested to take it on empty stomach that too early in the morning and one hour after its consumption people can go ahead with their regular breakfast. But this does not have to be restricted only once but can even be take twice every day in the evening before 5 pm which may change from one person to another.
This drink can be taken for one month continuously or even 3 months for this drink to work effectively making it part of diet to get benefit for longer duration.
Banyak kan benefit juice ni. Especially those yang kurang nak makan sayur tu, minum juice je. Senang!
Now I need to take out my juice maker...eh gune shake & take pun boleh. No worries, blender biasa tu pun boleh, tapi kene tapis la kalau tak suka rasa serdak-serdak tu.
So apa tunggu lagi, let start healthy life by eating and drink healthy. =)