Assalamualaikum w.b.t.
Celam celum sunggoh blog aku nih...jap ade jap xde...nak kate bz sgt, x pun...cume time je selalu x kene. Xleh nk concentrate fokus nak tulis blog. Mesti ade je mende lain come in the middle. So mood berblog selalu terbabas di situ.
This time nak share pasal SUSU! Salah satu dari makanan penting dalam Piramid Pemakanan.
Susu is best consume every twice a day. We need calcium for our bone, teeth n etc. Tp boleh je amik pemakanan lain yg mengandungi calcium.
I memang suka susu, what ever susu pun i minum. I have no problem to drink them. Even kalo sebarang dessert yg guna susu as ingredient I will luv it. Masa ni mostly susu lembu la...susu lain belum masuk anak tekak.
Masa preggy ni lg la banyak kene minum susu. Maklumlah share berdua ngan anak. 1st pregnancy, since knowledge x brapa nak byk I consume materna milk. Which macam2 feedback la i dpt from orang. Ade kate baik, ade kate x, ade kate it's a commercial product yg less valued n mcm2 lg. After gain some knowledge, for 2nd pregnancy I have change some pattern of lifestyle. I took fresh milk more than powder milk. Dulu saya x tertelan susu kambing, now it becoming one of my favorite.
Before this I selalu beli kat pasar2 which is small n expensive...range price from rm 6 - 7 for 150ml - 200ml. Rs cm hmmm tercekik gak la setiap kali nk membelinya. One day I decided to try Nubian sebab botol die menarik (masa tu botol kaca now dh bertukar gune botol plastik). Dulu senang je jumpe masa x minum, skrg agak sukar. 7E pun dh x nampak sgt.
Best thing about Nubian, die bleh wat home delivery. But u need to email them before they give you the contact person number. I have ordered 10 bottles last week which cost me only RM50 + RM3 for delivery. Cool is it. Cam Mat saleh or India yg delivery susu pagi2. =)
You may visit the link :
NUBIAN GOAT'S MILK
for further details.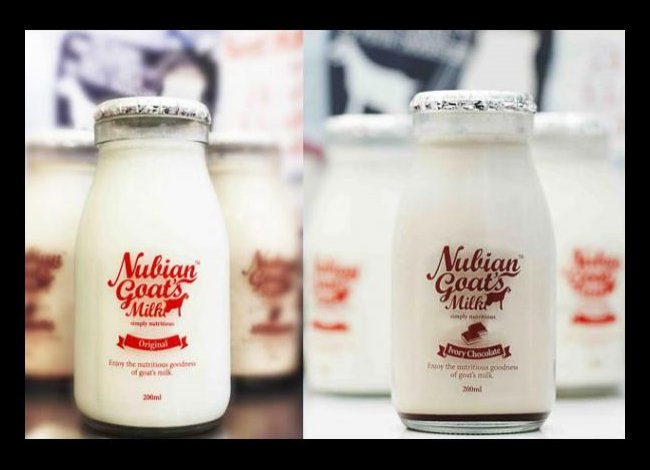 Ni botol kaca lame die, cam botol Starbuck Frap tu
Ni botol baru, plastik! X tau nak DIY pe nanti.
Enjoys!
So here some info I would like to share...taken from someone's blog.
Kelebihan Susu Kambing
- Paling hampir dengan susu ibu (minuman terbaik di dunia selepas susu ibu)
- Para Nabi meminum susu kambing dan membela kambing (membela dan meminum susu kambing adalah sunnah)
- Tiada dijangkiti penyakit kambing gila (yang ada penyakit lembu gila)
- Kurang dijangkiti penyakit kuku dan mulut berbanding lembu
- Kambing mempunyai sistem pertahanan tubuh yang kuat
- Kambing betina beranak 2 kali setahun, 1 hingga 4 ekor berbanding lembu setahun sekali dan hanya seekor
- Lembu hanya mempunyai nafsu mengawan sekali dalam satu tahun berbanding kambing, setiap hari
- Susu kambing lebih mudah dihadam kerana ia hanya memerlukan 20 minit berbanding susu lembu memerlukan 2 jam
Khasiat Susu Kambing
Susu kambing paling berkesan dan lebih berkhasiat jika dibandingkan dengan susu lembu dalam menyembuh serta mencegah penyakit "dalaman" antara lain:
- Penyakit deman kuning
- Penyakit lemah jantung
- Penyakit darah tinggi
- Penyakit migrane/kerap merasa pening kepala
- Penyakit sendi, sakit urat saraf dan buah pinggang
- Penyakit batuk kering atau TB
- Penyakit yang menyerang jantung, limpa dan hati seperti hipertitis
- Penyakit saraf dan tulang belakang yang dialami bila usia semakin lanjut
- Cukup bermanfaat bagi mereka yang mengalami lemah tenaga batin
- Sesuai diminum diwaktu pagi (sebelum bersarapan) dan malam (sebelum tidur). Jangan guna air panas kerana boleh merosakkan khasiatnya. Bancuh dengan air suam sahaja
Susu Kambing Adalah Yang Terbaik Selepas Susu Ibu
-
Membantu dan menguatkan sistem imunisasi tubuh
- Bersifat alkali bukan asidik
- Sesuai untuk semua peringkat umur, dari bayi dalam kandungan sampailah kepada orang tua
- Meningkatkan daya kepekaan, penumpuan dan ingatan
- Mengimbangi kadar kolesterol dan kandungan gula dalam darah
- Mudah dicerna (menyerap dalam tubuh badan) dan tidak menyebabkan alahan
- Membantu melancarkan sistem penghadaman dan permasalahan usus
- Merawat dan menyembuhkan penyakit kanser, demam kuning, gastrik, ulser, buasir, asthma (lelah), migrain (sakit kepala), penyakit kulit, insomia (sukar tidur), senggugut, darah tinggi, lemah jantung, kencing manis, batuk kering dan gout
- Menguatkan jisim tubuh yang sihat (tulang, gigi, otot, sendi, kulit dan tisu saraf
- Memulihkan tenaga batin dan awet muda
Credit to:
KHASIAT DAN KELEBIHAN SUSU KAMBING